Featured
Producers: 2014
Chateau De Brau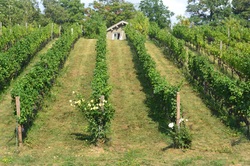 In our back the Montagne Noire; Carcassonne and it's castle and the magnificent Pyrenees on the horizon. The climate is still Mediterranean, but already a bit continental. Our soils are composed of calcareous sandstone and loamy - chalky marls limited in depth by sandstone rocks.
Many grape varieties adapt very well here. By choice we have a lot of them on the estate. Famous ones: Chardonnay, Roussanne, Merlot, Cabernet Sauvignon and Franc, Grenache, Syrah, Viognier, Pinot Noir, and other, unjustly unknown, ones: Egiodola, Fer servadou, Petit Verdot, …
A richness that allows us to produce a complete range of wines – Vin de Pays and AOP Cabardès – little and grand cuvees, each with its character. A range that gets larger following the new plantations and our inspirations as wine-makers.
Over the years we have considerably improved our working facilities: a 40 hectare vineyard (173,456 vines), organically grown - certified by Ecocert since 1989 – and a cellar, fully kitted out with modern equipment – pneumatic press, temperature control, destalking equipment and stainless steel tanks with isolation, air-conditioning and a cellar for oak vats. Our estate is NOP certified since 2008.
The effort made in the vineyard to obtain healthy and well balanced grapes is thus optimised in the cellar for the vinification and maturing of genuine wines.
At Château Brau a team is at work. In the vineyard you'll find Léon and Guy, Gabriel is busy with the elaboration and refining of the wines and ensures that all of this works well together. Wenny receives you at the domaine and travels abroad to present our range of wines.
We have created, over the years, a lasting relationship with our clients, developing friendship in a reliable professional environment. And we are intending to continue in the same spirit with our new customers !
---
---
A. Simoneau- France

Our cultivation is geared towards production of wine according to grape varieties. From selection of the plot of land right through to the bottling stage we use knowledge and expertise gained throughout more than two hundred years of wine production. We balance the traditions of this age-old craft with necessary modern tecniques to produce the quality and consistency we are proud of. We carefully monitor each plot of land where the vines grow and observe the weather conditions to determine if there is a real threat of disease, only in these conditions are the vines treated. To be assured of a high-quality crop of grapes, the carefully-nurtured vines are partially dis-budded. Some of the leaves are also pruned back to allow the sun to ripen the fruit which has a beneficial result on the finished wine.
At all stages of production we monitor the production to guarantee a traceability on the entirety of our vineyard. Our Sauvignon grapes are harvested at dusk or at daybreak as these are the best times to preserve all their distinct aromas

---

Chateau Horgelus

The area stretches over 66 hectares of vineyards located around the winery.

The greatest care is taken to preserve the aromas in wines by minimizing all forms of oxidation of musts and wines. C'est ainsi que les raisins sont ramassés à partir de 3 heures du matin jusqu'à environ 11 heures afin de profiter de la fraîcheur matinale. This is how the grapes are picked up from 3:00 am until approximately 11 hours to enjoy the cool morning air. D'autre part, le dioxyde de carbone des fermentations alcooliques est récupéré afin de protéger les jus tout juste pressés. On the other hand, carbon dioxide is recovered alcoholic fermentation to protect the juice just pressed.

Grapes to bottling, everything is done to preserve the maximum fruitiness and freshness of our







---
---
---
Chateau Peybonhomme-Les-Tours


Catherine and Jean-Luc Hubert are owner-winemakers Castle Peybonhomme-Les-Tours First appellation Côtes de Blaye and Côtes Grolet Château de Bourg. These two areas produce wines that are examples of work done in Biodynamics. Careful vinification and natural close relationship with Biodynamics achieves purity and complexity in the wine. Successive plowing of the clay-rich soil with the highly chalky subsoil characteristic of Peybonhomme enables the vines to be deeply rooted so as to express their exceptional terroir, and the yields are moderate to provide a concentration of flavors in the fruit.



---

Villa Valdeguinea, Roija Alta Spain

Centuries old vines are cultivated in bushes, these vines were planted using a Rister 110 root and then grafting a centenary tempranillo thorn taken from the eldest vineyards. A rough terroir with shallow soil at the junction of winds from the Mediterranean, Atlantic and Cantabric. All these characteristics give aromas which excentuate the terroir



---

Fratelli Barale

Staunchly traditionalist as it may be with Barolo, Barale is quite open to new directions and modern in spirit with regard to other wines, with its Barbera d'Alba Vigna Preda, for example, made from grapes grown in a high-density, low-yield vineyard and picked very ripe, and containing even some nebbiolo and chardonnay, which matures for a year in French oak botti; or the Langhe Chardonnay, from one of the first chardonnay vineyards planted in the Barolo area, in the early 1980s, trained to spur-pruned cordon and at a density of 5,000 vines per hectare, located at Monforte and in the Bussia vineyard, no less. Fermented and aged in steel to bring out its fresh fruit aromas, it absorbs from the distinctive structure of its soils the ability to mature beautifully with time and to develop an intriguing minerally tang. ​


---